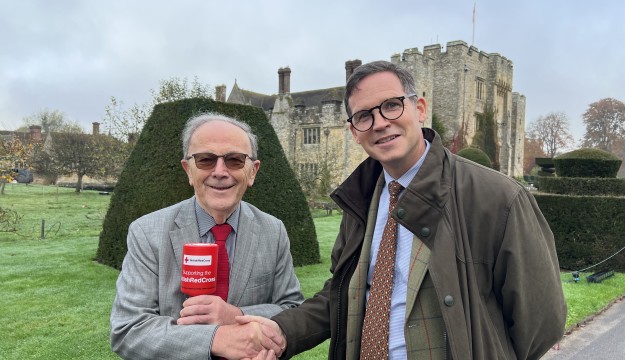 Visitors to Hever Castle have helped raise over £13,000 for the British Red Cross, Hever Castle's Charity of the Year for 2022.
The historic attraction fundraised for the charity from March until November 2022. Visitors were able to add a donation when they booked a ticket online to Hever Castle and make donations to the charity throughout the year via collection pots on-site with £13, 714.05 raised in total.
The total also includes money raised from cupcakes sold during British Red Cross week (6 – 13 May) which brought in £323.27 for the charity. The total for the collection pots is yet to be counted. Volunteers from the British Red Cross were on also on hand during the awareness week to talk to visitors about their work and wheelchairs were available to hire.
The partnership with the charity is part of a long-running association. Former owners of the Castle, the Astors had a strong affiliation. Lady Irene Astor was a president of the British Red Cross and on display in the Astor Suite of the Castle is a photograph of her and Prime Minister Winston Churchill. William Waldorf Astor is also said to have donated $100,000 to the charity during the WWI.
Claire Battersby, Senior Regional Fundraiser at the British Red Cross said; ''Here at the British Red Cross we are incredibly grateful to Hever Castle for their wonderful support this year – from selling British Red Cross cupcakes, to adding a donation to online bookings. At a real significant time for British Red Cross, Hever have been there to support us to enable us to continue our work whether it is here in Kent, elsewhere in the UK or in countries like Ukraine, Pakistan who have so desperately needed our support this year. Thanks to Hever, we can be there when a crisis happens, whether it is a housefire, floods or supporting refugees as they arrive in the country. Hever Castle and British Red Cross have strong historical links and it has been a pleasure to work together this year! A huge thank you to all of the staff and visitors at Hever Castle for helping to raise this phenomenal amount."
To plan your next group visit to Hever Castle see www.hevercastle.co.uk