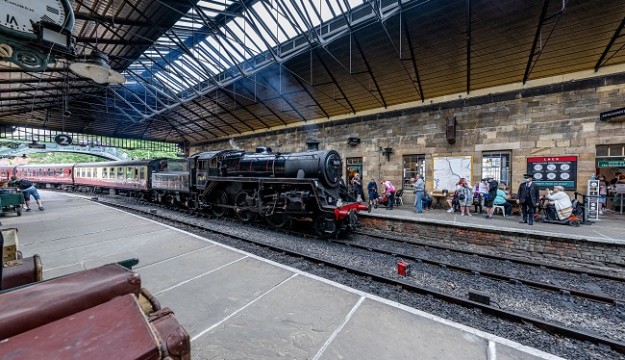 The North Yorkshire Moors Railway (NYMR) has announced its group headline fares for its upcoming 2023 season as it celebrates its 50th anniversary milestone.
Packages for groups of 20 or more include a Pickering to Whitby return for £31, a Pickering to Whitby single journey for £18 and a Pickering to Goathland single-use trip for £16. What's more, groups will also benefit from pre-booked seats during their trip to the Yorkshire heritage attraction.
The NYMR has always been a hugely popular choice for group visitors. This year's highly-anticipated 50th anniversary season and daily services have been confirmed to run from 27th March 2023 with services running every day up until 5th November 2023.
Chris Price, CEO at the NYMR, commented: "Not only are we gearing up for another exciting season opening, but this will be our most rewarding yet. This year is a momentous one for everyone at the NYMR, our volunteers, our visitors and the heritage railway sector. For the last 50 years, since we first officially opened on 1st May 1973, we like to believe that we've played a vital role in providing an authentic evocation of the steam age for everyone to enjoy, helping preserve the past and protect the legacy of steam travel for future generations
"It's been a challenging few years given events that were often completely out of our control but this year we're going full steam ahead as we celebrate every aspect of the NYMR, honouring and thanking our supporters for keeping us on track for the last five decades and inspiring us to continue to drive forward into the next 50 years."
2023 confirmed events: 
50th Anniversary Steam Gala (21-24 September)
Heritage Open Days (8-17 September)
*New Event* – Through the Decades 40s, 50s, 60s, & 70s (14 & 15 October)
Santa Specials (25&26 November and 2&3, 9&10, 16&17 and 23&24 December)
In lieu of its landmark anniversary, the charity will continue to present its group passengers with the opportunity to explore 24 miles of glorious heritage railway, taking in the breath-taking scenery of the North York Moors National Park, including Goathland railway station, known to millions as the filming location for the iconic Harry Potter and the Philosopher's Stone.
For group booking please call: 01751 472508 or for more information go to www.nymr.co.uk