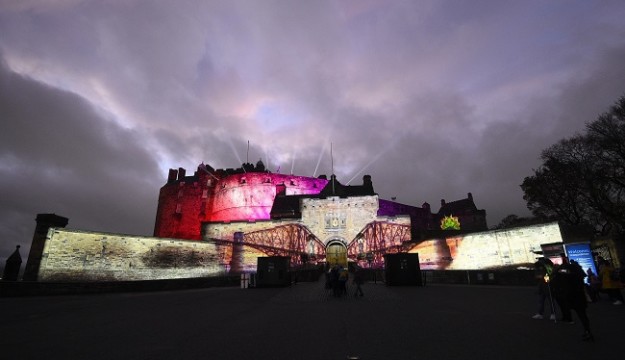 Edinburgh Castle will welcome visitors after dark to experience the wonder of Castle of Light as the immersive experience officially opens to the public this evening (19 November).
Guests were treated to a sneak peek of what's in store at this year's event at a preview evening last night, where Paul Marshall from Portobello had the honour of switching on Castle of Light: Hidden Treasures for the first time.
Promising to uncover incredible tales, old and new, Castle of Light: Hidden Treasures brings Scotland's lesser-known stories to life with the use of stunning visuals, state-of-the-art projections and captivating storytelling.
Following a national hunt for Castle of Light's own 'wee treasure', 21-year-old Paul Marshall was selected as the deserving winner chosen to switch on this year's event after tallying up an astonishing 199 individual nominations in his name. Paul, who has one of the rarest brain diseases in the world which has left him partially sighted and with learning difficulties, was nominated by locals, family and friends as a 'wee treasure' due to his winning personality and devotion to helping others.
One anonymous nomination, submitted to Edinburgh Castle as part of the Wee Treasure search, noted: "Paul brings a smile to the whole community, he's the bright light in everyone's day. When he was a year old, his mum was told that he would never walk or talk due to his rare brain disease. Despite this, he has beaten all the odds and spreads love and happiness wherever he goes. No job is too small for him to help with. He didn't miss a night during clap for carers and always has the biggest smile on his face. He truly is a wee treasure."
During lockdown, Paul became a familiar presence in the community as he cheered on the UK's key workers on a Thursday evening from his front door. He became such a cheerful and welcoming part of the Edinburgh landscape during this difficult time that the bus drivers in the city gave him his own Lothian Buses jacket on his birthday to thank him for his support. He also received hundreds of cards from people in the community to help him celebrate his 21st.
Castle of Light's creative director Andy McGregor, who is working alongside Double Take Projections, NL Productions and War Productions Ltd, in partnership with Historic Environment Scotland, on this year's event, said: "As Castle of Light: Hidden Treasures is all about putting a spotlight on the lesser-known stories from Scotland's past, we wanted to find other unique stories about the special people who make up our country today. And we knew there would be some gems right on our doorstep.
"We were overwhelmed by nominations for Paul, who is clearly a shining star in the community. We can't think of a more deserving person to help us light up the city with Castle of Light – just as Paul has done in his own local area with his unwavering support and joyful spirit."
Castle of Light: Hidden Treasures will bring light, legend, mystery and magic to the capital for eight weeks through the festive season, from Friday 19 November 2021 to Sunday 9 January 2022 (on select dates, Thursday – Sunday).
A selection of street food vendors, including Hector and Harriet, specialising in artisan blend barista coffee and unique home-baked goods, the Prime Street Food wagon boasting restaurant-quality bites and The Haggis Box, serving up traditional Scottish scran, will also be onsite to ensure visitors can spend the full evening exploring Edinburgh Castle's grounds. Caterers Benugo will also be found serving food and drink outside the castle's Redcoat Café, alongside an Edinburgh Gin cocktail bar serving mixed drinks, with bottles of Edinburgh Castle Gin available to purchase. Various other retail pop-ups will be open exclusively to Castle of Light visitors, with over 18s welcome to visit the Whisky and Finest Foods shop for free samples, including a taste of the delicious Magnum Scotch whisky cream liqueur.
Tickets are also available for an 'Access' night taking place on Thursday 25 November, designed to cater for people with additional support needs, including autism and dementia. To ensure that as many people as possible can experience the animated storytelling tour, the evening will feature a range of specific support, including British Sign Language interpretation and audio described tours, as well as a designated quiet space and ear defenders to help manage noise.
For more information and to get your tickets visit: www.edinburghcastle.scot/whats-on/castle-of-light-hidden-treasures