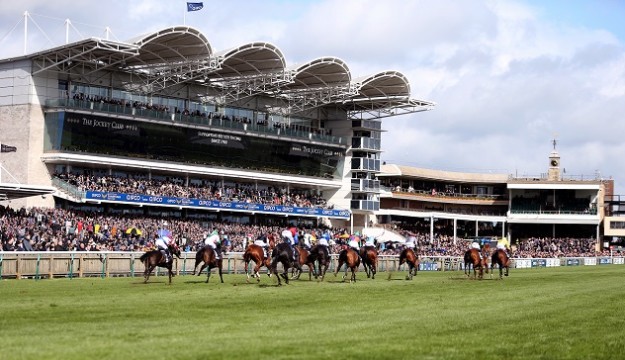 Fans of Dick Francis can now follow the author's trail around Newmarket on one of two new guided tours from Discover Newmarket.
Francis wrote 50 thrillers during his second career as a novelist, featuring locations including the Rowley Mile Racecourse (above centre), scene of a bomb plot in Dead Heat, the sales ring at Tattersalls, in which a horse is shot in Bonecracker, and the Stallion Unit at the National Stud, where drug doping is uncovered in Banker. These and more can be seen during the two-hour tour, which ends with a cream tea.
The second new tour, "Newmarket's Racing Royalty", reveals the royal heritage of the town, to which equestrian sport was first introduced by James I and later promoted by Charles II.
Visitors on the tour will hear stories about the royals who have frequented Newmarket, the home of horseracing, down the centuries. They'll also call by places with royal connections, from the statue to celebrate the Queen's 90th birthday (above, right) to Palace House, one of two palaces built in the town, now home to the National Horse Racing Museum, where the tour concludes with a cream tea.
"On the Trail of Dick Francis" public tours are available on 6 August, 1 October, 5 November and 3 December. "Newmarket's Racing Royalty" public tours are available on 3 September, 22 October, 19 November and 17 December. Both tours cost £25 per person and are also available to book as a private tour (minimum two people) for a one-off additional payment of £35.
The tours, by bus and on foot, can be booked through Discover Newmarket, the official tourism service for Newmarket and the surrounding area, on 01638 501122 or https://discovernewmarket.co.uk.
Discover Newmarket offers a variety of other tours, too, including the National Stud Tour (from £15 per person), The Newmarket Experience (from £65 per person), and The Ultimate Newmarket Experience (from £95 per person). To create a short break, browse the hotel, B&B and self-catering options at https://discovernewmarket.co.uk/stay.