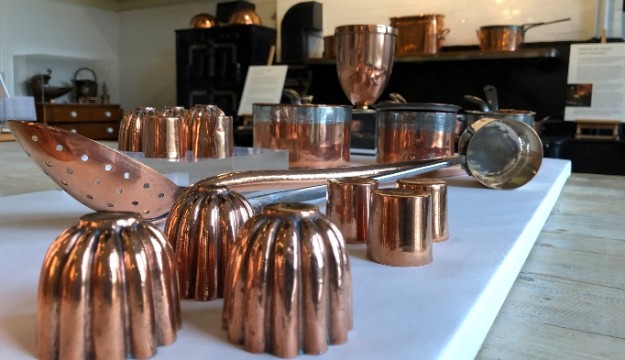 Waddesdon Manor reveals the secrets of its kitchen in new online exhibition.
The history and secrets of Waddesdon Manor's kitchen and the people who worked in it are revealed in a fascinating new online exhibition – History of the Manor Kitchen – available now.
Originally intended as a physical exhibition (opening in February) the show has now gone online so even more people are able enjoy it. As a summer retreat from London and a magnificent setting for weekend house parties, Baron Ferdinand de Rothschild's Waddesdon was the last word in luxury and refinement. Guests included Queen Victoria and her son, the Prince of Wales (and future King Edward VII). Such was the artistry in the kitchen, the Queen sent her own chef to learn from Ferdinand's after her visit in 1890 – fascinating archive records show us she enjoyed six courses over several hours, starting with consommé, then trout, followed by quails, beef and chicken, ducklings garnished with buntings and asparagus, Soufflés a la Royale (decorated with gold leaf) and Beignets a la Viennoise. The original menu is included in the exhibition.
The heart of the exhibition is a grainy black and white photograph, taken around 1900, of the kitchen brigade is displayed on the very table they are standing around – but who were they all? The copper batterie de cuisine – bearing the Baron's and his sister Miss Alice's monogram – will give many enthusiastic cooks severe pot and pan envy. Everything in the exhibition helps to tell the stories of life in a Rothschild kitchen, from examples of table linen to keys and other domestic equipment. For coffee fanatics, there is even an early 1920's espresso machine.
The exhibition can be accessed now, here – https://waddesdon.org.uk/history-of-the-manor-kitchen-online-exhibition/