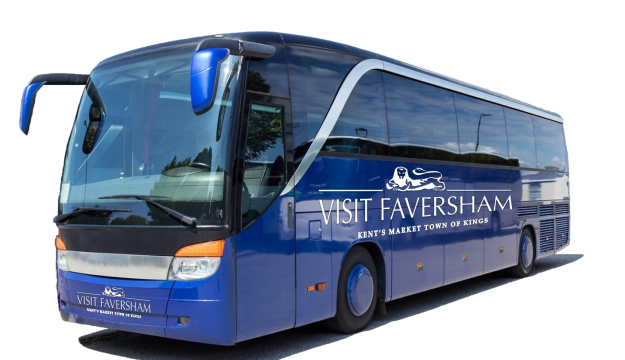 FREE coach parking is now available in Faversham, running from December 1 2021 upto November 30 2022.
Once coach drivers have dropped passengers off at the drop off point in Central Car Park accessed via Leslie Smith Drive (ME13 8PW).  Swale Borough Council and Faversham Town Council have been working hard behind the scenes to re-instate FREE parking at Macknade, just outside of town on the Selling Road.
Having commenced on December 1 2021, the facility is available seven days a week, and by scanning a QR code displayed at the coach drop off point in Central Car Park to check- in (copy of the sign and QR code below), coach drivers can grab a FREE hot drink when they arrive at Macknade to park while passengers are enjoying the wealth of independent shops, cafes, pubs and heritage attractions that Faversham Town Centre has to offer.
Coach parking is available during the following days and times:
Monday to Wednesday – 9am to 6pm
Thursday and Friday – 9am to 8pm
Saturday – 9am to 6pm
Sunday – 10am to 4pm
All coach drivers are entitled to a complimentary hot drink from Macknade, which can be claimed in the Food Village by quoting the coach company and the driver's name.
Why not incorporate a trip to Macknade in your itinerary plans when visiting Faversham – you might like to stop en-route into town with your group passengers before heading on into town.  Ranging from exotic fruit to local cheese, craft beer and authentic Italian pasta, the Macknade food hall has a selection of produce from local farms & from all over the world.  The range of produce is complimented by wide aisles and plenty of space, making it particularly comfortable for groups to enjoy.
More information at www.visitfaversham.org