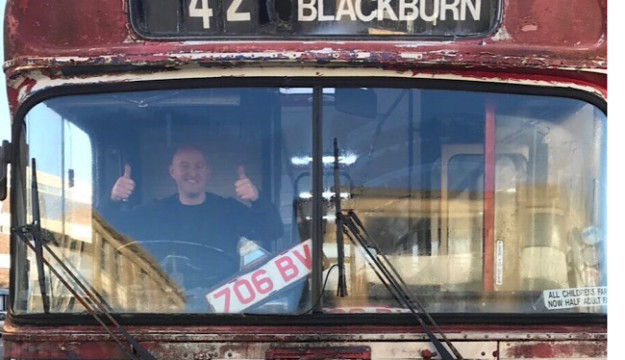 A rare blue and red 1975 Leyland Leopard bus is the subject of a £14000 fundraising appeal by the Accrington Heritage Trust.
The vehicle, once part of a fleet of buses operating in East Lancashire, was put into service with its unique paint job in honour of the East Lancashire 11th Battalion, called the Accrington Pals.
The heroic Accrington Pals are known for the part they played in the Battle of the Somme. Fought in 1916, it was one of the deadliest battles in human history with 56,000 casualties in just the first day. Many of the Accrington Pals were killed or injured serving their country during the battle. The deeds they did that day will never be forgotten: there is a memorial to those great men, made of Accrington bricks, on the historic battle field where they fought for their country. The Vintage bus is itself a memorial to the Accrington Pals.
The bus is owned by Accrington Heritage Trust, a local charity, and the plan is to restore the bus to a modern safety standard at a cost of £14,000, so that it is available to tour local historic sites and for use by schools and other local organisations. It is currently housed at the Town & District Transport Trust in Great Harwood, East Lancashire.
The Leyland Leopard is an important piece of motoring history. Once a common sight on British roads, the Leyland Leopard will remind many readers of school days in the second half of the 20th century. This particular example has the added historical importance of it's homage to the brave soldiers of the 11th East Lancashire Battalion: the Accrington Pals.
Anyone wishing to support the appeal can do so by visiting www.amazingaccrington.co.uk/palsbus. Donations of £100 or over will receive a special, framed certificate from the Accrington Heritage Trust.