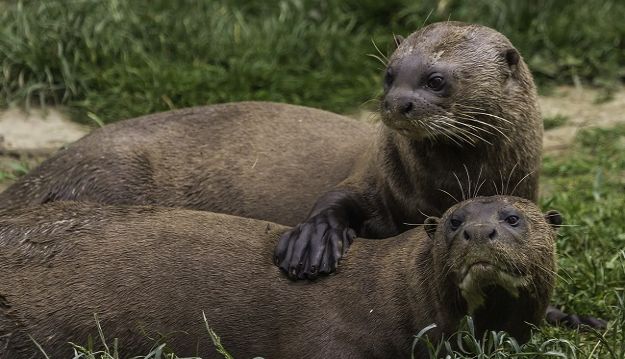 The giant otters at award winning Yorkshire Wildlife Park enjoyed a cooling swim yesterday as they celebrated World Otter Day.
But there was no audience for their antics in the water, as the Park near Doncaster has been temporarily closed due to the pandemic since March 22nd.
Rangers continue to work tirelessly to care for the hundreds of animals at the Park. Lovebirds Alexandra and Orimar have been inseparable since being introduced last October.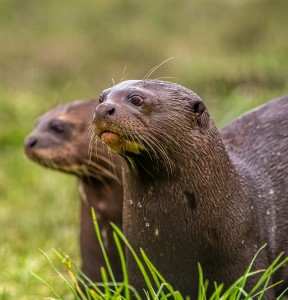 The couple are normally a visitor favourite, putting on spectacular displays diving into their otter pool. Otters are phenomenal athletes in the water, with their powerful tail, webbed feet, water repellent fur and the ability to dive deep, closing their nostrils and ears in the water.
Alexandra and Orimar are part of the European breeding programme initiative, with zoos around Europe working together to save this charismatic species which is listed as endangered on the IUCN Red List. Alexandra joined YWP back in 2015 from Duisburg Zoo in Germany. Orimar arrived in October 2019 as a potential breeding partner for the striking female.
Yorkshire Wildlife Park puts conservation at the hearts of all its activities and donations from visitors to the Yorkshire Wildlife Park Foundation have been helping fund programmes to rebuild otter numbers in the wild. Current numbers of wild giant otters are around 5000. They are found in and around the Amazon basin, and threatened by habitat loss and degradation, contamination, overfishing, poaching and climate change.
The Yorkshire Wildlife Park Foundation, which is based at YWP, is currently funding a vital project, which aims to highlight the plight of endangered otters and protect them in their natural habitat on Brazil. The Instituto Araguaia Giant Otter Project aims to protect the limited number of surviving Giant Otters in the Cantao region of the Amazon.
But the work has been impacted by the virus. YWPF Trustee Cheryl Williams said: "Programmes are having to be cancelled meaning there are fewer people to monitor cameras, fewer people out on the field and fewer people looking out for poachers.
"But the project team members in Brazil are trying their best to continue with research and protection by monitoring cameras. After the project was threatened last year by forest fire and now this year by coronavirus, they need all the help that we can give."
For future information head to www.yorkshirewildlifepark.com