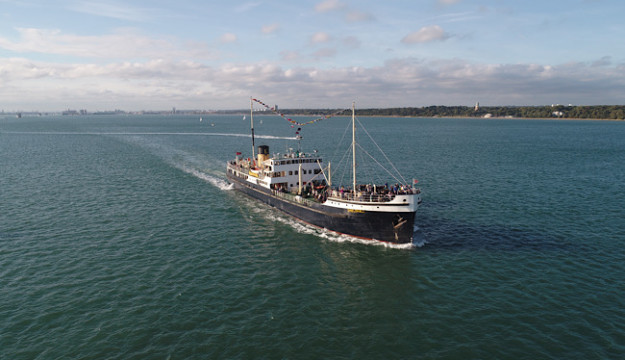 Steamship Shieldhall has teamed up with God's House Tower to offer another exciting all-day Southampton package for groups in 2021.
Shieldhall now offers all-day tours to Southampton on the subject of The Titanic; The Spitfire; The Mayflower and 'Southampton's Towers and Vaults' on all days when it has either 2hr or 3 1/2hr sailings scheduled. The 'Towers and Vaults' package consists of a visit to God's House Tower; a 1 ½ hr guided walk with a SEE Southampton Tour Guide around Southampton's Old Town, including a visit to Westgate Tower and a number of underground vaults, and a sailing on the Shieldhall. Packages with a 2hr sailing are an inclusive £34.50 and packages with a 3 1/2hr sailing £45.
God's House Tower opened again to the public in 2020 following a £3.1 million restoration project. The 700 year old building offers visitors the opportunity to interpret Southampton's heritage through the eyes of artists and local historians, staging a number of projects and installations which re-imagine the stories of Southampton's Old Town. Shieldhall's Nigel Philpott noted: 'We're delighted to offer an all-day package including a visit to God's House Tower, the closest attraction to Shieldhall, with a rich maritime history and a location overlooking Southampton Water. Groups will be able to visit the roof of the Tower which offers spectacular views, and also take a connected tour encompassing a number of underground vaults, learning about Southampton's lucrative wine trade during the middle ages. There will be stories of war, disease and piracy to take in, before a sailing on Shieldhall to discover tales of the Docks and Southampton Water. Alongside our traditional sailings which are popular with groups, the all-day package offers a tailor-made option for those parties looking for something a little different and inclusive.'
Scouts and youth groups are not forgotten either aboard Shieldhall in 2021, with two Heritage Adventure Training Days at Sea planned on Saturday 15 May and Saturday 11 September 2021. Shieldhall has a Galley, Licensed Bar and Saloon, with a selection of hot and cold food and real ale available on all trips. Refreshments on the group packages may also be purchased at SeaCity Museum, God's House Tower or restaurants in Southampton's City Centre and Old Town. Shieldhall has a proposed sailing programme between May – September 2021, with the group package option available with all 2hr and 3 ½ sailings.
For Shieldhall's programme, please visit:
https://ss-shieldhall.co.uk/bookings/category/public-sail/
For more info on the Shieldhall group packages, please email: 
or call:- 0844 357 2329