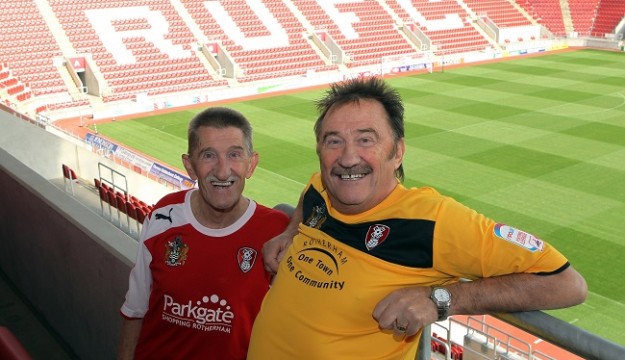 Gulliver's Valley, the new Rotherham theme park, has announced a richly deserved tribute to local legends and TV stars the Chuckle Brothers.
The lives and careers of Paul, and his late brother Barry, will now be forever remembered in South Yorkshire history with the unveiling of some special plans at the new multi-million pound development.
The story of Rotherham's most famous sons, who were best known for their long-running BBC children's TV programme ChuckleVision and support of Rotherham United FC, will adorn the walls of the newly named 'Chuckle Street', an indoor area of the site, where visitors will be able to see a colourful timeline of houses along the walls displaying the remarkable journey of the brothers over the years.
A 'Chuckle Bank' will be created at the end of the street where people can make donations of books and toys to be given to local children's charities and community initiatives, reflecting the pairs' famous 'To me to you' catchphrase.
In addition, parents and grandparents will be able to get involved by sending in copies of any photos they have had taken with Paul and/or Barry over the years to go on display in the 'Generation Gallery'.
Finally, to help keep young minds busy during the lock down period, children are being encouraged to draw something that has made them smile recently and submit their pictures to Gulliver's Valley social media channels. The best entries will then be featured along Chuckle Street forming a colourful bunting of 101 Chuckles.
Julie Dalton, managing director of Gulliver's Theme Parks Resorts, said: "We knew from the very beginning of this development that we would have to recognise the unbelievable careers of Paul and Barry. Not only are the Chuckle Brothers proud Rotherham people but they have also worked tirelessly throughout their lives to create amazing, fun experiences for children up and down the country which aligns exactly with the ethos of Gulliver's. They are both true local legends that deserve all the accolades they have received, and we hope by honouring them in this way it goes a little way to showing them how proud the people of South Yorkshire are to call them their own.
"We wanted to give our customers the chance to see how the careers of Paul and Barry developed over the years, so we'll have an eye-catching display on 'Chuckle Street' to showcase the key milestones in their lives. We also know people of all ages love the Chuckle Brothers as they are such a reminder of our childhoods or our children's childhoods, so parents and grandparents can also get involved by submitting their own memories or photos. The 'what made me smile' home activity will also allow young people to get involved now so we can be banking all their wonderful artistic creations to go on display as soon as we open.
"It is terribly sad that Barry is no longer with us to be part of this but we know how much it means to Paul and his family and we look forward to welcoming him to Gulliver's Valley as soon as we can to show him our tribute to him and his brother."
Paul Elliott, one half of the legendary Chuckle Brothers who is currently starring in the new series of the BBC One hit The Real Marigold Hotel, said: "It's a real honour for the Chuckle Brothers to be recognised in this way and I'd like to thank Gulliver's Valley as it really does mean the world. Everyone knows that Barry and I were proud Rotherham lads who flew the flag for the town wherever we went so to have a place in this area that showcases our lives and careers is just wonderful.
"It's also particularly fitting because Gulliver's Valley is a place dedicated to family fun and adventures, which is exactly what Barry and I set out to achieve with our act and subsequent TV shows all those years ago. I know how much this would have meant to Barry so it is bittersweet but I'm incredibly proud and can't wait to visit the park and Chuckle Street myself as soon as I can."
Gulliver's Valley Theme Park will be home to more than 50 rides and attractions including an Apache Falls ride, full-size diggers, the Ghostly Galleon pirate ship and a Lost Jurassic World area which will be boast all kinds of dinosaurs.
In addition, various accommodation options will be available, including unicorn and princess suites alongside Western Cabins and Lost World Lodges as well as a range of packages for groups such as birthday parties, sleepovers and residentials.
Added Julie: "Dealing with the impact of the coronavirus pandemic has made it an incredibly difficult time for everyone across the country and unfortunately, to ensure the health and safety of staff, construction on the Gulliver's Valley site has currently stopped. We're remaining positive as, while we could never have predicted the current situation, we have ample flexibility built into our schedule for unknown delays or disruption, so this existing downtime is currently not impacting on when we'll be opening the doors.
"We just want people to know that we are all still working hard behind the scenes on projects such as this one to honour the Chuckle Brothers so that when we do open, Gulliver's Valley is the perfect place for families with children aged between three and 13 years old to go and have some much-needed family fun!"
For further information about Gulliver's Valley please visit: www.gulliversvalleyresort.co.uk