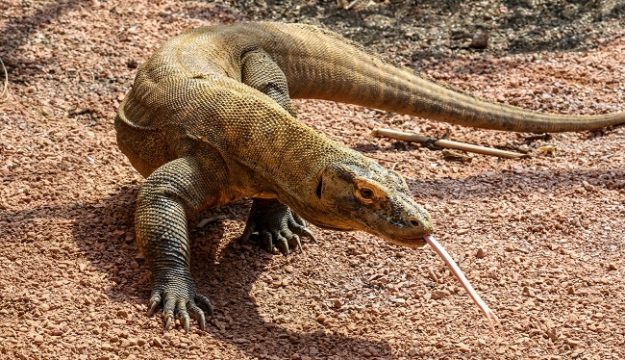 Khaleesi the Komodo dragon swoops into London Zoo
A dragon that can smell dinner from two miles away is the latest arrival to London Zoo – and zookeepers are all fired up for visitors to meet the scaly newcomer this May half-term.  As 10-year-old Komodo dragon Khaleesi is unable to fly – unlike the species' mythical namesake – she was instead chauffeured the 200-mile journey from Paignton Zoo in Devon to the capital on 11th May, as part of the European Breeding Programme for the Endangered species (EEP).
The 1.5 metre long female is affectionately named after Game of Thrones character Daenerys Targaryen, television's famous 'Mother of Dragons.'
London Zoo's Dragon Keeper Joe Capon said: "We're really pleased with how well Khaleesi is settling in at the zoo's Attenborough Komodo Dragon House; a temperature-controlled biome designed to recreate the hot, rocky Indonesian islands where the species are found in the wild.
"Khaleesi is an alert, curious lizard, and has been busy exploring since her arrival – in particular, by digging some pretty impressive burrows on the sandy shoreline."
Komodo dragons (Varanus komodoensis) have walked the earth for millions of years and are the largest and heaviest lizards in the world, weighing up to 136kg and measuring up to 2.5 metres long. Using 60 serrated, shark-like teeth, the impressive reptiles can eat up to 80% of their body weight in one feed, with their super-strong jaw and throat muscles allowing them to swallow huge chunks of meat, including whole chicken carcasses, in a matter of seconds.
Joe added: "Mythical dragons may be able to fly, but these stealthy reptiles have their own super-power: scent. Using their long, fork-like tongues, Komodo dragons like Khaleesi sample the air, before rubbing their tongue across the scent-detecting 'vomeronasal' organ on the roof of their mouth – which means they can detect potential lunch from up to 2.5 miles away."
Native to Indonesia's Lesser Sunda Islands, and named after the island of Komodo, the dragons are sadly classified as Endangered by the IUCN Red List of Threatened Species. The fascinating lizards, which have the rare ability to reproduce without a partner (a process called parthenogenesis), face threats from climate change and habitat loss due to human activities. In 2021, the total population of Komodo dragons in the wild was estimated to be no more that 1,400.
Conservationists from ZSL, the international conservation charity behind London Zoo, are working to protect the Komodo dragon's native Indonesian habitat. With over 90% of palm oil grown in Southeast Asia, ZSL works with the palm oil industry to advise companies on how to safely manage wildlife, including populations of Sumatran tigers and other Indonesian species living where they operate.
Visitors can catch a glimpse of Khaleesi, as well as 15,000 other incredible animals at the historic London Zoo this May half-term: families can also enjoy a free, action-packed programme of fun at the conservation zoo's Spring Family Festival.
Book your tickets today at www.londonzoo.org.