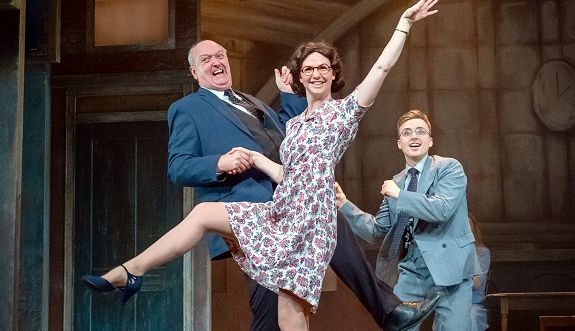 THE HELEN FORRESTER PLAY BASED ON THE BEST-SELLING BOOK WILL RUN FROM SEPTEMBER 2021 VISITING SEVENTEEN VENUES ACROSS THE UK
The acclaimed stage production of Helen Forrester's, By The Waters Of Liverpool was cut short last March after just three venues into a seventeen venue tour; but now producers have announced the continuation of their UK tour in Autumn 2021. Writer and Co-producer Rob Fennah said: "When we launched By The Waters Of Liverpool last year the response was so overwhelming we were determined not to let the pandemic get the better of us. We have a mantra when things get tough, 'don't give up – don't give in!'
"By The Waters is not only returning to the stage in September, it is going to be bigger, bolder and more glorious than ever." Co-producer Bill Elms added: "With the vaccine roll-out going so well, we can now see the light at the end of a dark tunnel for the theatre industry and we just hope people will feel safe enough to come back in their droves; embracing theatre and live performance more than ever before."
The stellar cast featured star names from stage and screen, including Sian Reeves, Mark Moraghan, Parry Glasspool, Lucy Dixon, Eric Potts, Lynn Francis, Danny O'Brien, Roy Carruthers, and Chloe McDonald.By The Waters Of Liverpool opened on Tuesday 3 March 2020 at the Floral Pavilion in New Brighton – just a few miles from the author's birthplace in Hoylake. It was there a blue plaque was unveiled by actors Sian Reeves and Mark Moraghan to coincide with the opening of the tour which received a raft of 4-5-star reviews.
After an enforced 18 month break due to the Coronavirus pandemic, the tour will now continue to run from September 2021, opening in Lytham, then visiting towns and cities across the UK, including Lancaster, Darlington, St Helens, Warrington, Bolton, Stockport, Crewe, Halifax, Coventry, Winchester, Rhyl, Hayes, Chesterfield, Malvern, Southport and Wirral.
By The Waters Of Liverpool is a stunning period drama produced by the team that brought the smash hit Twopence To Cross The Mersey to the stage, produced by Pulse Records Limited in association with Bill Elms, written by Rob Fennah and directed by Gareth Tudor Price.
By The Waters Of Liverpool is set in the 1930s after Helen's father went bankrupt during the Depression. Her family were forced to leave behind the nannies, servants and comfortable middle-class life in the South West of England. The Forrester's chose Liverpool to rebuild their shattered lives, but they were in for a terrible shock. Taken out of school to look after her young siblings, Helen is treated as an unpaid slave. So begins a bitter fight with her parents for the right to go out to work and make her own way in life. But by 1939 and with Britain on the verge of war, Helen now aged 20, has still never been kissed by a man. But things start looking up for her when she meets a tall strong seaman and falls in love.
Helen Forrester's best-selling volumes of autobiography include Twopence To Cross The Mersey, Liverpool Miss, By The Waters Of Liverpool, and Lime Street At Two. The new production of By The Waters Of Liverpool also features sizeable chunks from Helen Forrester's Liverpool Miss and Lime Street At Two plus flashbacks to Twopence To Cross The Mersey.
Adapted by Rob Fennah·Directed by Gareth Tudor Price. Produced by Pulse Records Limited in association with Bill Elms. Fully endorsed by the Helen Forrester Estate
Website: www.bythewatersofliverpool.com
Facebook: www.facebook.com/ByTheWatersThePlay
Twitter: @bythewatersofl1
Listing Information 
LOWTHER PAVILION – LYTHAM
Thursday 9 – Saturday 11 September 2021
West Beach, Lytham St Annes, FY8 5QQ
Website: www.lowtherpavilion.co.uk
Box Office: 01253 294221
LANCASTER GRAND THEATRE
Monday 13 – Tuesday 14 September 2021
St Leonardgate, Lancaster, LA1 1NL
Website: www.lancastergrand.co.uk
Box Office: 01524 64695
DARLINGTON HIPPODROME
Wednesday 15 – Thursday 16 September 2021
Parkgate, Darlington, DL1 1RR
Website: www.darlingtonhippodrome.co.uk
Box Office: 01325 405405
ST HELENS THEATRE ROYAL
Monday 20 – Wednesday 22 September 2021
Corporation Street, St Helens, WA10 1LQ
Website: www.sthelenstheatreroyal.com
Box Office: 01744 756000
WARRINGTON PARR HALL
Thursday 23 – Friday 24 September 2021
Palmyra Square, Warrington, WA1 1BL
Website: www.parrhall.culturewarrington.org
Box Office: 01925 442345
BOLTON ALBERT HALLS
Monday 27 – Tuesday 28 September 2021
Victoria Square, Bolton, BL1 1RU
Website: www.alberthalls-bolton.co.uk
Box Office: 0843 7080500
STOCKPORT PLAZA
Wednesday 29 – Thursday 30 September 2021
Mersey Square, Stockport, SK1 1SP
Website: www.stockportplaza.co.uk
Box Office: 0161 477 7779
CREWE LYCEUM
Friday 1 – Saturday 2 October 2021
Heath Street, Crewe, CW1 2DA
Website: www.crewelyceum.co.uk
Box Office: 01270 368242
VICTORIA THEATRE – HALIFAX
Monday 11 – Tuesday 12 October 2021
Fountain Street, Halifax, HX1 1BP
Website: www.victoriatheatre.co.uk
Box Office: 01422 351158
THE ALBANY THEATRE – COVENTRY
Wednesday 13 – Thursday 14 October 2021
Albany Road, Coventry, CV5 6JQ
Website: www.albanytheatre.co.uk
Box Office: 02476 998964
THEATRE ROYAL WINCHESTER
Friday 15 – Saturday 16 October 2021
21-23 Jewry Street, Winchester, SO23 8SB
Website: www.theatreroyalwinchester.co.uk
Box Office: 01962 840440
PAVILION THEATRE – RHYL
Monday 18 – Thursday 21 October 2021
East Parade, Rhyl, LL18 3AQ
Website: www.rhylpavilion.co.uk
Box Office: 01745 330000
BECK THEATRE HAYES
Monday 25 – Tuesday 26 October 2021
Grange Road, Hayes, Middlesex, UB3 2UE
Website: https://becktheatre.org.uk
Box Office: 020 85618371
POMEGRANATE THEATRE – CHESTERFIELD
Monday 1 – Wednesday 3 November 2021
Corporation Street, Chesterfield, S41 7TX
Website: www.chesterfieldtheatres.co.uk
Box Office: 01246 345222
MALVERN THEATRES
Friday 5 – Saturday 7 November 2021
Grange Road, Malvern, WR14 3HB
Website: www.malvern-theatres.co.uk
Box Office: 01684 892277
THE ATKINSON – SOUTHPORT
Tuesday 9 – Friday 12 November 2021
Lord Street, Southport, PR8 1DB
Website: www.theatkinson.co.uk
Box Office: 01704 533333
FLORAL PAVILION – WIRRAL
Saturday 13 – Sunday 14 November 2021
Marine Promenade, New Brighton, CH45 2JS
Website: www.floralpavilion.com
Box Office: 0151 666 0000