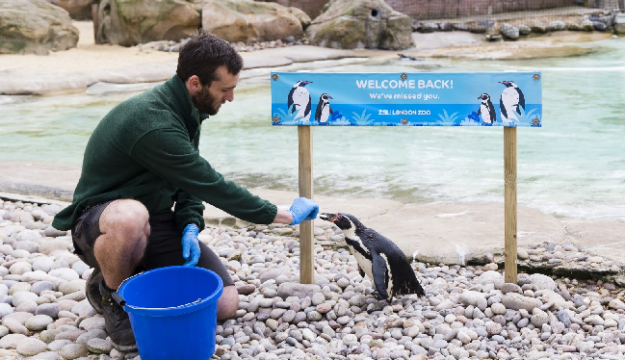 Visitors flock to capital's iconic attraction for reopening day
Visitors arrived at ZSL London Zoo today (Monday 12 April) to enjoy the official reopening of the historic attraction – three months after it closed to the public for the third national lockdown.
Eager visitors who secured one of the limited sold-out tickets to today's reopening formed a socially-distanced queue to enter the iconic 36-acre park, before safely following one of three carefully mapped out nature routes laid out across the site – blooming in the spring sunshine.
Standing two metres (or a lion's length) apart, the public enjoyed visiting the Zoo's popular  residents, including Critically Endangered Western lowland gorillas Mjukuu, Effie, Gernot and Alika, Sumatran tigers Asim and Gaysha and giraffes Maggie and Molly.
Earlier in the morning, keepers celebrated by placing a 'We Are Open' banner on Penguin Beach just before the gates opened – to ensure the zoo's lively colony of Humboldt penguins didn't miss out on the reopening excitement. Penguin keeper Paul Taylor-Nelson said: "It's been a long, tough winter without our visitors and we are so happy to finally see people enjoying wildlife and fresh air at the zoo once more – the penguins will love having an audience to show off for again!"
The Zoo is limiting visitors to ensure social distancing and are accepting pre-booked tickets only. A one-way system is in place, with three prescribed routes ensuring guests remain socially-distanced while exploring. Catering outlets are takeaway only, and all payments will be contactless. Indoor exhibits, including the Reptile House and Rainforest Life will remain closed for now.
Kathryn England, Chief Operating Officer for ZSL London Zoo said: "With our tried and tested safety measures in place, we're more than ready to welcome people back for a much-needed fun day out.
"The excitement inside London Zoo this morning, from both zookeepers and visitors, has been heartwarming: seeing so many happy faces of all ages has definitely made us feel hopeful for an amazing spring and summer at the Zoo – and we have lots of exciting events planned for as restrictions are eased. "Being closed for so long means we have a long road to recovery ahead of us, but luckily the best thing people can now do to support us is simply to book a ticket to visit."
Support ZSL London Zoo while enjoying a great day out: find out more and book tickets online now at www.zsl.org