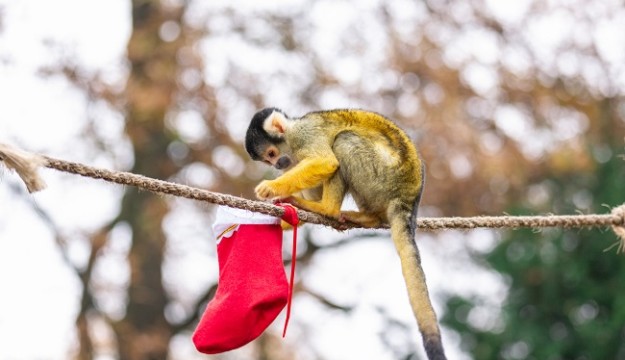 Squirrel monkeys at ZSL London Zoo enjoy festive stocking treat 
Zookeepers at ZSL London Zoo busied themselves hanging stockings for the Bolivian black-capped squirrel monkeys this week, as part of the Zoo's Christmas activities. 
The mischievous monkey troop woke to find mini stockings strung along the branches of their In with the Monkeys home, each one filled with festive nuts – as well as a colourful, stocking-shaped climbing frame, suspended between two trees. London Zoo keeper Rowan Swainson said: "It's the season of giving and we always look forward to sharing the magic of Christmas with the animals at ZSL London Zoo.  
"At this time of year, people all around the country tend to start hanging up their stockings and at the Zoo it's no different; the squirrel monkeys loved rummaging around in theirs to find the tasty nuts we've hidden, before jumping all over their festive climbing frame." 
Set on 36acres of outdoor space, ZSL London Zoo is a nature haven at the heart of the capital – find out more about how the keepers care for the animals at Christmas at www.zsl.org/london-zoo