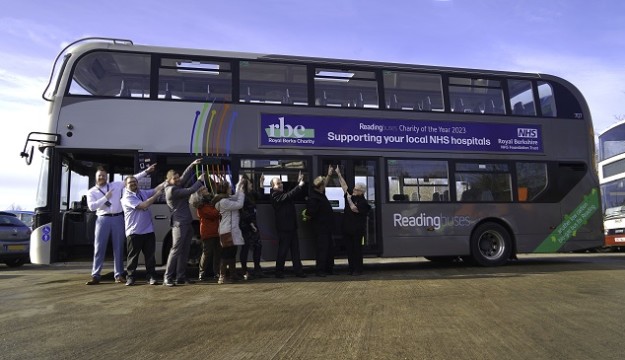 A bus has been unveiled to mark the official launch of the Reading Buses Charity of the Year for 2023.
The 'generic' silver bus will carry the Royal Berks Charity designs on the nearside, rear and offside to promote the new partnership. Because the bus is not dedicated to a particular route it can run anywhere around the town and beyond giving the charity maximum exposure.
Said Robert Williams, Reading Buses Chief Executive Officer: "It is amazing to be able to finally announce that our new charity partnership for 2023 is with Royal Berks Charity.
"This is a very local charity that helps out a great institution that many of our customers and employees use. "The Royal Berks Charity was voted for by our workforce and came out comfortably on top though initially, the vote looked like being close. It beat two other charities on the shortlist.
"We are looking forward to this new year and we are setting ourselves the challenge to raise over £10,000 again. The main fundraiser, our family Open Day, has just been confirmed as being on Sunday June 25. "We hope that all our employees and customers get behind the charity and make this a hugely successful year."
Said Jo Warrior, Royal Berks Charity Director: "We are absolutely thrilled to have been chosen as Reading Buses Charity of the Year 2023, and are really excited to work with such an iconic part of Reading life, especially during the 75th year of the NHS.
"The partnership is a fantastic opportunity for us to raise awareness of the Royal Berks Charity and the work we do to support the Royal Berkshire NHS Foundation Trust and the services it provides across Berkshire and South Oxfordshire; we pride ourselves on being able to enhance the care and experience of patients and staff."