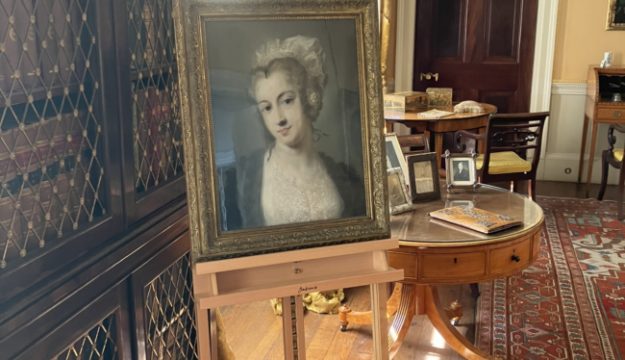 Recent research by Xavier Salomon, Deputy Director and Chief Curator of the Frick Collection, New York has resulted in an artwork from the Tatton Park collection being confirmed as being by the renowned Venetian artist Rosalba Carriera.
The 'Queen of Pastel'
Born in Venice, at a time when being an artist was frowned upon and difficult for women. Rosalba became one of the most popular and sought-after artists. From her beginnings as a painter of scenes for snuff box lids, she moved on to portrait miniatures and then became integral in popularising the use of pastels. She was an initiator of the Rococo style and is remembered as one of the most successful women artists of any era.
Her talent meant she was in demand in the Royal Courts and by the 'Grand Tour' tourists flocking to Venice. Her works were sometimes considered risqué due to the delicate lace coverings, depicted on the subject's clothing only just saving their modesty. Many of her works were exported via Joseph Smith, the renowned art trader and collector, who became ambassador to Venice, promotor of Canaletto and whom Samuel Egerton (of Tatton) served as an apprentice from 1729 to 1734.
A hidden gem
Rosalba sent exported works with hidden 'santini' – printed prayers or blessings for a safe passage, tucked into the back of the frames. Over time these fragile bits of paper often became lost or separated from her works. The discovery of one still in situ at Tatton was an exciting find for teams at Tatton Park.
Works in pastel are very delicate and this one is no exception. It required some conservation work to stabilise the surface and a refit into its frame, as well as the frame itself needing some attention. You can see the detailed work of the painting's restoration on Tatton Park's Instagram channel. With the conservation work now completed the painting will be on display in the Mansion from 27th September. Visitors can see the painting this year before the Mansion closes for winter conservation from 29 October 2023, and National Trust members can enjoy free Mansion entry with a valid membership.
More information on visiting Tatton Park is available at www.tattonpark.org.uk