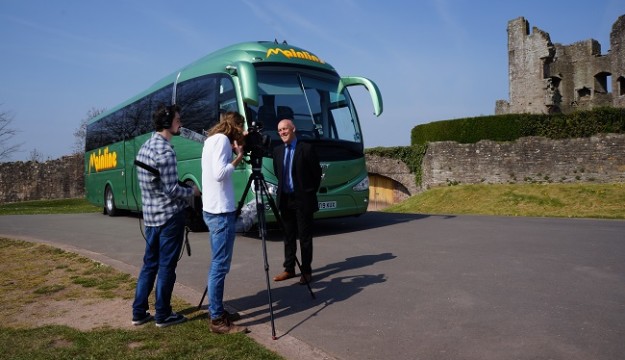 Dream Tourism Team Star in Film–Groups and Coaches the Focus of NW Movie
Some of the Northwest's most loved group and coach magnets are in the frame after filming across the region.
Ena Mill Retail of Atherton, Daish's Hotel Blackpool, Samlesbury Hall of Preston; Macclesfield Silk Museum/Paradise Mill as well as the Olympus Fish and Chip Restaurant in Bolton all feature in a special promotional film produced by UK travel trade specialists Steve Reed Tourism Ltd.
The film can be viewed here: https://youtu.be/Fkf9Ql2NCQU
Filming in conjunction with North Wales based Eastwood Media (https://www.eastwood-media.co.uk/) short 12-15 minute film is be geared to the needs of tour planners around the country. The movie will be sent to group travel organisers, coach and tour operators, tour wholesalers and inbound tour operators.
And the idea is to encourage these important travel trade players to bring their groups of spending customers to these excellent and complementary sites. Each will have equal billing and they make for the perfect tour.
Steve Reed Tourism have pioneered the production and distribution of the films during the lockdown periods. Already this year eight films have been produced around the country including areas and locations as diverse as Porthcawl and Bridgend County; Port Sunlight Village in Merseyside; Plymouth; Hull and Southern Wales region. And other coach films – for destinations and single attractions – are almost ready for distribution around the UK including the English Riviera and Gilbert White House in Hampshire.
'We've always done a lot of group travel and coachwork around the Northwest with some top attractions, hotels and even resorts so it's a real pleasure to work with this dream team!' says Steve Reed.
'People who just need to plan their tours don't have to leave their office or home now – because the films don't just promote tourism, they look at locations and sites from the point of view of the tour planner. And as we're so well known in the travel trade having had our business for over 20 years, we're happy to use that experience to recommend group-friendly destinations and tourism businesses – places that actually want groups.'
The NW film is now being distributed to tour buyers.