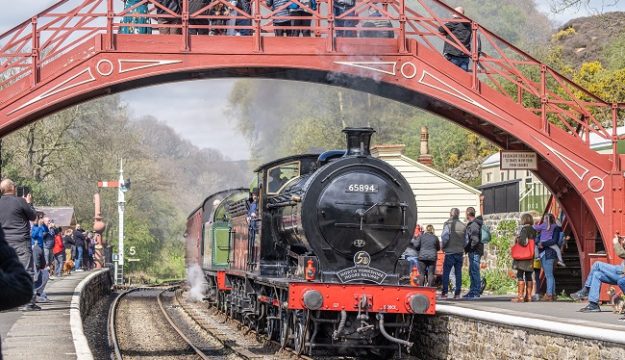 Working collaboratively with Pickering Rotary Club, the North Yorkshire Moors Railway (NYMR) will shortly be welcoming visitors from local charitable organisations including Mencap and Sight Support. 
Three days out have been planned on the 6th, 19th, and 20th of October for Groups from Sight Support, Next Steps Ryedale, Ryedale Carers Support, Carers Plus Yorkshire, Acorn Community Care, 5 Whitby Road, Mencap and MS Society UK to hop on board the heritage railway for a memorable day. Each organisation has invited members of their group, often with a disability, support needs, or who are facing financial barriers, to take part in these special outings.
The groups will enjoy Yorkshire's amazing scenery from the comfort of the historic carriage travelling behind a heritage steam or diesel locomotive. During their time at the NYMR, the visitors will experience a real step back in time by heading to Grosmont, where they will be treated to lunch and have the opportunity to explore the 1950s-themed station which is home to the operating and engineering world of the NYMR.
John Fields from Pickering Rotary Club, said, "Pickering Rotary Club are delighted to provide days out once again to many of our local charitable organisations following a break due to the Covid pandemic. We would like to say a big thank you to the North Yorkshire Moors Railway, as without its generous support we would not be able to offer such wonderful opportunities. The railway's commitment to the community echoes that of the Pickering Rotary Club. 
"I have received such a positive response and many messages to say how valuable such opportunities are to service users. It is always heartwarming to see and hear the impact such events have. As we continue to provide these special days out, we look forward to touching the lives of many more individuals in the community, spreading joy and a sense of togetherness that is truly priceless."
Michelle Baggaley, Community Engagement Manager at NYMR, added, "As a charitable organisation ourselves, the North Yorkshire Moors Railway is proud to be able to support Pickering Rotary Club in providing this opportunity to fellow local exceptional charities and organisations that carry out incredible work on a daily basis, especially during our 50th anniversary year. Altogether we will be extending a warm welcome to approximately 190 individuals who may not otherwise be able to experience our Heritage Railway and Living Museum. Through collaborative efforts, we aim to remove barriers and open doors for many more groups and individuals to partake in the unique offerings of the North Yorkshire Moors Railway."
For more information about the heritage railway, visit http://nymr.co.uk/