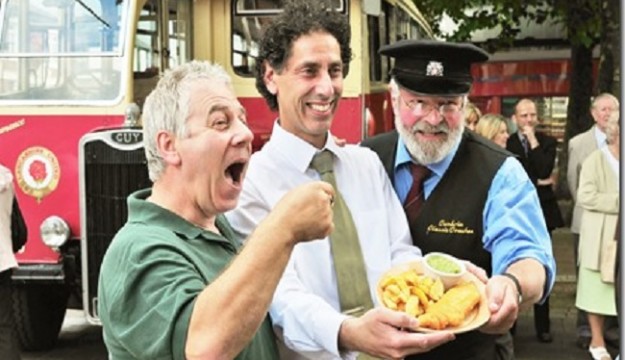 Coaches and Groups Welcome to Bolton Destination Restaurant.
One of the country's top fish and chip restaurants is to welcome back groups. And there's never been a better time to book a group visit. The Olympus Fish and Chip Restaurant in Bolton, Lancashire has for long been a true destination for groups of coach parties visiting or passing through the Northwest region of England. It's no mere restaurant.
For more information about a group visit to the Olympus Restaurant or to reserve a group for the restaurant, please telephone [01204] 523887 or email info@olympusfishandchips.co.uk   www.olympusfishandchips.co.uk
Many of those groups have been heading into the vibrant city of Manchester; perhaps en route to the Lake District or Blackpool – or maybe taking in full excursions around the region, a trip which calls for a high quality meal stop!
The restaurant is renowned for its range of great facilities and exquisite service. These include an orangery; Schimmel piano and guest pianists; garden area and outdoor dining if required as well as the famous and delicious home cooked food. Indeed there is a mouth-watering and varied menu to choose from in its spacious and award winning restaurant
Now the legendary businessman Tasos Pattichis – who is the owner and proprietor of the famous restaurant on Great Moor Street in Bolton – is putting out the red carpet to coach and tour parties. Tasos is a very well-known and charismatic figure in the UK tourism industry encouraging groups to visit the region – and the Olympus – at countless travel trade shows around the country. He's the man with the red carnations..
'Working with travel trade specialists Steve Reed Tourism all those years ago, the Olympus went from almost zero groups to hundreds of coaches each year,' says Tasos.
'We've always been a regular port of call for groups – especially since the construction of the rail and transport intersection right next door to the Olympus Restaurant here in Bolton. And now we want tour planners of all types to know that we're ready, safe and up and running for groups.
And the Olympus is also a registered 'Eat Out to Help Out' restaurant so groups booking for an August visit can benefit from that cost-saving initiative.
The Olympus is a long established part of the Northwest group visit scene and is regularly included in excursions and holidays to the region. Trips which often include such well known sites and destinations such as Southport; Samlesbury Hall; Tatton Park in Cheshire; Ena Mill Retail in Atherton and Courtyard at Tarleton in Lancashire.The team at the Olympus, led by Tasos have followed the government's COVID-19 guidelines to the letter and have come up with a process that is safe for both customers and employees.
For more information about a group visit to the Olympus Restaurant or to reserve a group for the restaurant, please telephone [01204] 523887 or email info@olympusfishandchips.co.uk   www.olympusfishandchips.co.uk