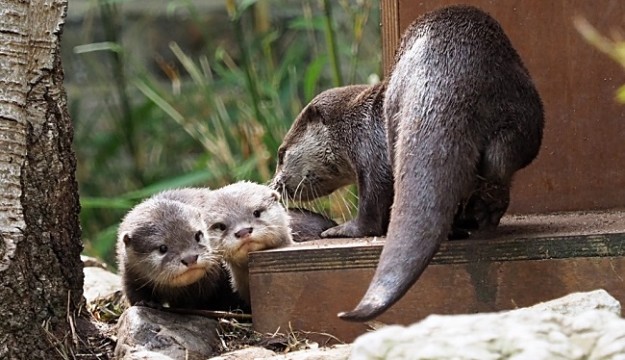 ZSL otter family takes newborn pups on first trip outside at London Zoo.
Zookeepers at ZSL London Zoo have shared the exciting moment first-time parents Pip and Mathilda introduced their two Asian short-clawed otter pups to the great outdoors – just days after the historic Zoo celebrated reopening to the public.
Born on Wednesday 15 April during the nationwide lockdown, the two pups, nicknamed Bubble and Squeak by keepers, have so far been looked after by their otterly adorable parents in the privacy of their cosy indoor holt, but have just started to venture out and explore - just in time for lucky visitors to spot on socially-distanced trips to the Zoo, which can be booked at zsl.org
Footage captured by zookeepers shows the proud parents showing the sleek youngsters around their leafy home - shepherding them back to their side if they totter too far – as well as nightcam clips of the pups being licked clean by mum in the holt.
ZSL London Zoo senior zookeeper Laura Garrett said: "Bubble and Squeak caused so much excitement when they arrived in April: the first animals born at the Zoo during lockdown, they boosted the morale of our hard-working zookeeper team and everyone has been waiting eagerly for them to emerge from their holt ever since.
"We set up cameras to monitor their progress, and were overjoyed when we spotted Pip and Mathilda finally carrying them outside - otter pups don't leave the family holt for at least the first six weeks of their lives, so they're perfectly on schedule."
Keepers don't yet know the sex of the pair, which will be revealed at their first health check, as the family have been left undisturbed by the team to bond in private – with keepers quietly leaving Pip and Mathilda's favourite food, crayfish and sprats, close to the holt entrance for them to retrieve at their leisure.
Laura added: "Both Pip and Mathilda are very paws-on parents and have been devoted to their pups, barely leaving their side – we're so pleased that the Zoo has reopened in time for the public to see the whole family start to playfully explore together on their private riverbank."
ZSL London Zoo reopened to the public on Monday 15 June after an unprecedented three months of closure due to the coronavirus lockdown. The loss of income put the charity zoo under huge financial pressure as they continued to provide the highest level of care for their animals. Now open to limited numbers only, ZSL, the international conservation charity behind the Zoo, is calling on the public to help ensure they stay open by booking a ticket, joining as a member or donating to ZSL at www.zsl.org