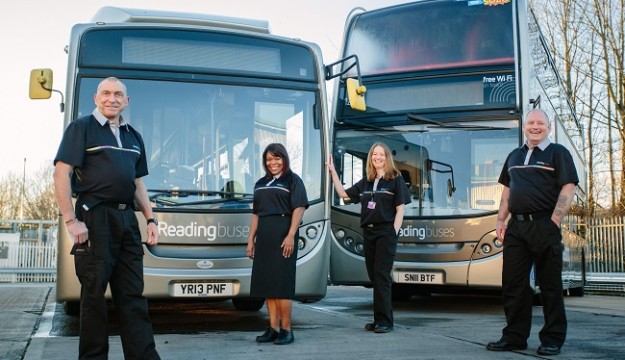 As they re-emphasise the safety measures they are now taking to keep customers and employees safe, Reading Buses have issued a thank you to everyone.  "We have been overwhelmed by the kindness and support of our customers during this difficult time," said Marketing and Communications Manager Jake Osman.
"And that appreciation works both ways as we value our customers and want them to feel safe and secure when using our services as well as enjoying a pleasant journey. "We have always worked hard to make our buses more inviting to both regular and casual users, and although the current situation is definitely abnormal, we want to continue this.
"Some procedures are new, and some are improved versions of current ones -all of which are designed to keep customers and employees safe. When our customers need us, they can be sure that we are clean, safe and ready to go with the same friendly drivers and hi-spec vehicles. "Keeping our customers safe helps to keep our employees safe and vice versa. Even some small measures can have big results in limiting the spread of coronavirus."
He added: "Perhaps the most important thing we can do is remind everyone they should only travel when necessary – and not to travel if feeling ill."We have also looked at how we can help at every stage of a customer's journey to keep things moving as normally as possible."
He outlined current measures that include cleaning and sanitising, facial coverings, social distancing and prioritising contactless payment methods. Jake said Reading Buses had enhanced their daily vehicle cleaning with extra attention being paid to frequently touched areas such as bells and hand-poles. He said hand sanitiser units have now been installed on every bus for the use customers with drivers being issued with their own supply from the outset.
As per the government's recommendations, from Monday June 15 everyone is required to wear a face covering when travelling (with some exceptions due to disability or age), and all frontline employees have been supplied with packs of reusable face masks to use if they wish. All employees also have access to disposable gloves when needed.
Buses have had the best seats highlighted to maintain social distancing, with space on each bus being limited to around 25% of the normal seated capacity, and have had screens put in place to keep drivers safe. The closest seats to the driver's cab have also been cordoned off to ensure drivers can feel safe and maintain their own social distancing as much as possible.
Reading Buses strongly recommend that payment for travel should be by using their app, to limit the potential spread of the virus on cash. They say that using the app will also help customers to plan their journey in advance and see where their buses are on a live map to help limit the amount of time waiting at the stop.
Buying travel in advance on the app and then scanning the mobile app ticket is also the quickest way to board the bus. Customers can also pay by smartcard or contactless payment. If customers need to pay with cash, they say that to limit the need for drivers to handle money, it should be placed into the hopper with no change given. The company say they also have spare buses and drivers ready to run 'duplicate' journeys to ensure that buses do not become too busy and can provide the right amount of capacity for customers at the right times.
Added Jake, "We are constantly monitoring which journeys and times are busier than others so that we can now react accordingly, but at the same time also plan for the next stage when more restrictions are lifted. "With some restrictions eased and others possibly to follow in early July,
we want to let everyone know that we have everything in hand to ensure that social distancing can be maintained and that everyone can have a pleasant experience. "Rest assured that we will continue to do as much as we can to keep everyone safe and ensure that we are still running buses for everyone in the future."
For more information visit www.reading-buses.co.uk