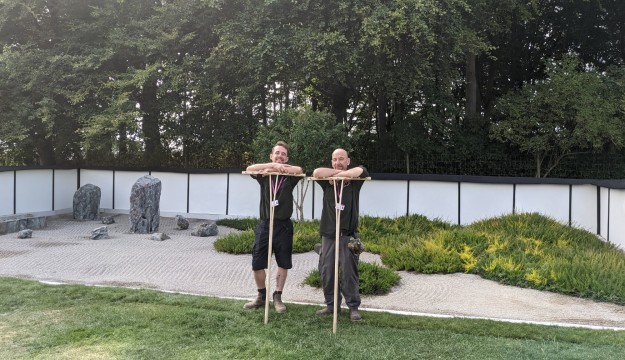 This year, Simon Tetlow and his garden team at Tatton Park have reimagined a new commission for the Egerton family (the last owners of Tatton Park) to complement Tatton Park's famous 111-year-old Japanese garden.
This dry landscaped garden or rock garden (inspired by Karesanui gardens of Japan) has been designed to inspire the public to experiment with native plants in different settings.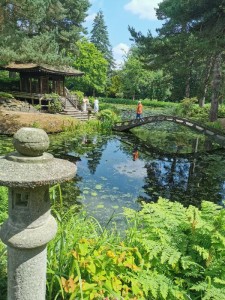 Cheshire Dry garden – cultivating imagination and inviting you in!
Designed in a modern style using native British species arranged in aesthetic form, the Cheshire Dry Garden hopes to make visitors stop and pause, as well as to provoke ideas about what makes a garden. Simon Tetlow, Tatton's head Gardener explains, "We hope visitors can find moments of calm in the spaces we have created in this dry garden. The garden isn't about perfection, it's the process of creating the patterns within and the calming motion of raking the pebbles. We encourage our visitors to step inside and have a try for themselves and find their moment of calm!"
Links to the past
The garden celebrates Tatton Park's strong Japanese cultural links, and annual Matsuri Summer Festival. A seasonal garden highlight in Tatton's 50 acres of gardens takes place on 13 August 2022, in association with the Japanese Embassy, Japan Society Northwest and JETAA Northwest. Against the backdrop of Tatton's Japanese garden, it showcases some of the best authentic Japanese cultural experiences. Visitors can experience ikebana flower arranging enjoy traditional tea ceremonies, and musical performances, and take part in traditional art & craft activities such as calligraphy, origami, and Japanese dance workshops.
For more information visit tattonpark.org.uk/events
The RHS Flower Show Tatton Park runs until Sunday 24 July 2022. Tickets can be purchased on the day.