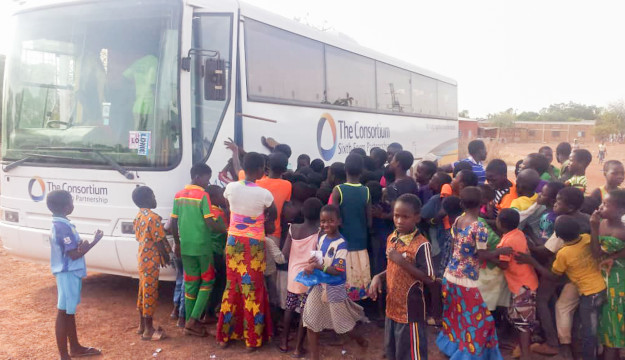 Beverley-based Acklams Coaches has donated another coach through local charity Jacob's Well Appeal for a new life in Burkina Faso where people live in poverty.  It will be used for transporting school children in and around Bobo-Dioulasso.
John Beynon (CEO of Jacob's Well) accepted the keys to the Plaxton Excalibur coach from Managing Director, Paul Acklam.
John stated that the activities that these vehicles enable make a huge difference to children who often live in single room dwellings. It "brings some light into their gloomy lives". The coach will be used to take Sports Teams & the School Choir from the ABC School in rural Bobo-Dioulasso to other schools for sporting competitions and performances. "We are very grateful to Acklams for their generosity and support".
Paul Acklam was delighted once again to help out the local charity saying that "when a well-maintained vehicle comes to the end of its UK life, it is great to know that it can be put to good use in another part of the world".
The coaches from Acklams fit in well with the rest of the programme of donations and funding that Jacob's Well Appeal have provided for the community and children over the past 10 years. The first coach is pictured here in use.
John went on to give an update on the latest situation in Africa: Whilst the UK is has struggled to cope with COVID, spare a thought for those who live in 3rd world countries. Whilst the official infection rate there seems lower than in the UK, in most of the developing world there is almost no testing, and it is not really known why many people die. Governments across Africa have imposed lockdowns.   But for the local people, when the government imposes a lockdown, the workers who are paid in cash each day have no way of buying food. Many more are dying as a result of starvation and the poverty that follows rather than from the virus. Jacob's Well has started a special appeal to asking for extra funds to help support the world's poorest people who are struggling with COVID related poverty.
Acklams is a member of the Coach Tourism Association and Chair John Wales added: "This is a really fantastic thing for Acklams to do and will make a really, tangible difference to those children in Burkina Fasso".