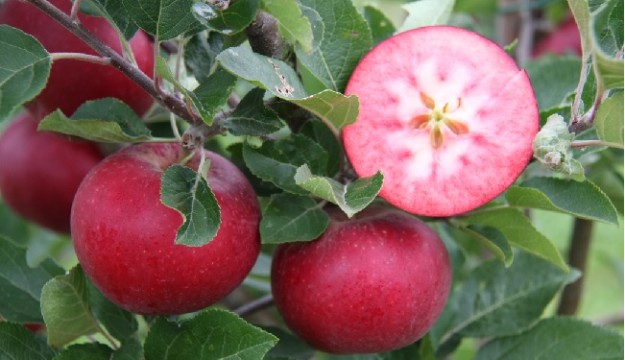 The Royal Horticultural Society (RHS) has published its gardening predictions for the year ahead, forecasting how and what the nation's 30 million gardeners will be growing in their homes and gardens in 2022.
Based on gardener enquiries and horticultural trends, the charity sees a return to bolder planting choices with deeper shades replacing more muted colour schemes. This is reflected in the trend for red-fleshed fruit, with apples, pomegranates and chokeberries proving popular choices. Planet Friendly Gardening also continues to dominate gardeners' approach to their plots with scything, fermenting and cut flower growing set to take off.
The full list of predictions from the RHS' own in-house experts and familiar faces from the world of horticulture are published in the January edition of the charity's The Garden magazine on Monday.
2022 Gardening Prediction Highlights:
Confident colour: As public confidence returns so has a taste for more daring plant colours such as reds, oranges and purples with crocosmia, salvia and canna set to prove popular in 2022 as a result. This colour trend is also reflected in new releases from growers such as everlasting flower 'Granvia Gold' and echinacea 'SunMagic' series while low maintenance houseplants in brighter hues are also predicted to overtake sales of green-leafed plants, such as the new red succulent x Semporium 'Sienna'.
'Snow White' apples: Red-fleshed apples, high in anthocyanins which are thought to be anti-inflammatory and anti-viral, will become more prevalent in gardens and follow the success of newly introduced varieties 'Tickled Pink' and 'Surprise'. An explosion in fruit training adds to the allure. Continuing the trend for red produce, gardeners will also experiment with more exotic fruits such as pomegranates, chokeberries and serviceberries.
Fast-track gardens: With the nationwide return to office working, time spent tending the garden is feeling the squeeze. As a result, labour-saving activities and products that offer speedy results are on the rise such as growing kits, pre-planted baskets and troughs, self-watering pots and battery-powered pruners. These provide more opportunity to sit back and enjoy the garden with all-weather outdoor socialising set to continue.
Upskilling: For those with time to spare, learning a new skill is top of the agenda, with the majority keen to lessen their impact on the environment. This is set to spur a resurgence in home composting techniques – such as Bokashi which breaks down even meat and dairy – as gardeners look to reduce their reliance on shop bought products and scything which is easier than a mower on wildflower patches and minimises the need for petrol or diesel powered tools. In response to environmental need and demand, sustainability will underpin school, adult and professional learning programmes offered by the RHS.
Home-grown bouquets: Edibles and flowers will share space on the veg patch as people respond to the carbon footprint of shop bought flowers and turn to growing their own. Repeat flowering plants such as alstromeria, cosmos, dahlias, and zinnia will be favoured for their ease of growing and reliability during the summer months while sea lavender and everlasting flower serve as dried decoration for winter displays.
Guy Barter, RHS Chief Horticulturist, says: "With a return to more normal weekday patterns in 2021, the UK's gardeners are adapting their approach to tending their plants; drawing on quick fixes where necessary but all the time working to ensure their plots are planet friendly and an inspiring place to work and play."
For more information about the RHS and its 2022 predictions visit: rhs.org.uk/gardening2022