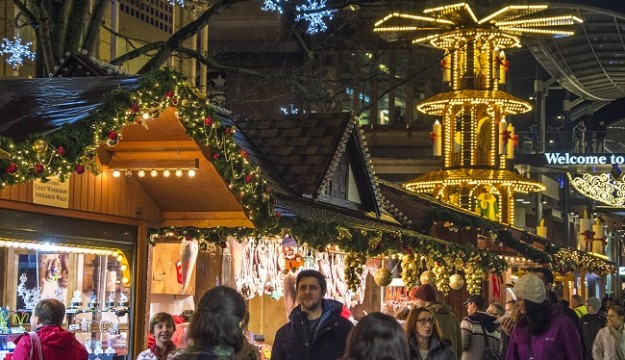 After last year`s lonely times at Christmas, we are ready to enjoy ourselves twice as much! Christmas cheer is contagious too – and that is what we are seeing at present on Above Bar Street in Southampton.
The Southampton Christmas market is in its seventh year. The event organiser WELA Markets has a lot of experience in running typical German Christmas markets – over three generations. Christmas markets have a long tradition in Germany – they have existed for over 6oo years.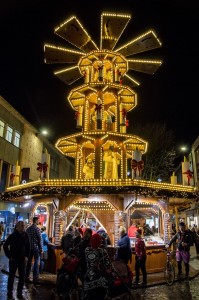 So, what makes German Christmas markets so special that they are famous all over the world? It is the combination of the cosy feeling you get around Christmas time meeting up with friends, having a glass of typical German Glühwein (mulled wine) and a tasty Bratwurst and –and should your toes still be cold because of the chilly weather – try moving to the live music that is provided every day – in Germany this is called "schunkeln". That means you stand or sit arm in arm with the person standing next to you and you move sideways to the rhythm of the music – this will definitely get you warm! And- this year they have added the "Conga"!
It also means taking a stroll around the market looking for individual Christmas gifts for your loved ones- gifts that are unique and that you cannot find anywhere else: elegant ladies wear and handmade jewellery, cosmetics and candles, delicate glass-blown elements, ecological and environmentally friendly products that have been produced sustainably, ornate oriental lamps and Tunisian pottery, funky garden accessories, all of these are just a selection of the very special gifts you can buy.
Why not enjoy a visit to the hot chocolate stall with all the toppings you can possibly think of and purchase a colourful balloon for your toddler?  Enjoy a delicious homemade Indian dish or spicy Gyros.  Fudge and cotton candy are available for anyone with a sweet tooth – the Market offers everything to get you into a festive mood for Christmas and the start of a marvellous heart-warming season that is long-awaited by many, especially children.
It takes about a week to dismantle the stalls after the Markets conclusion so all staff of WELA Markets spend Christmas in Southampton every year.  Consequently, everybody has to do their Christmas shopping at the local retailers` shops.
The musical entertainment for this year's market is a medley of British entertainers and a Bavarian musician – they have also hired special singers to make up for Santa`s show which cannot take place this year as he has to do some much-needed repairs to his sleigh!
Presents and candy for children, buying gifts for your loved ones and having a glass of mulled wine for the adults whilst both young and old can try a German Bratwurst or Currywurst – a famous German speciality by now -the German Christmas market offers something for everybody.
Southampton Christmas Festival:  18 November to 23 December 2021
Address: Above Bar Street, Southampton SO15 1QD
Opening hours:   Arts and craft stalls: 10am to 8pm every day
Beer Gardens:  10am to 10pm
No pre-booking of parking space necessary.
Vouchers for bus drivers: 1 free meal and 2 free beverages