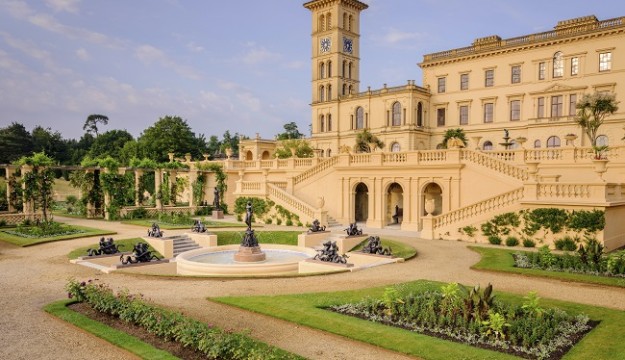 With the nation's focus on the coronation of King Charles III in May, there's never been a better year to put the spotlight on past monarchs by organising a tour to English Heritage royal residences through history. 
All of the following English Heritage sites offer a 15% discount for groups of 11 or more. For full information go to: https://www.english-heritage.org.uk/visit/group-visits/
Osborne on the Isle of Wight – holiday home of our new king's great-great-grandmother Queen Victoria – is probably the best known of English Heritage's properties with royal links. A trip here offers a very intimate glimpse into the island getaway of Victoria, Albert and their nine children, where they relaxed away from the formality of courtly life.
Inside the grand Italianate house, lavish formal state rooms contrast with their personal rooms where they lived as a family. Filled with original artworks and furniture reflecting the tastes of the royal couple, they also display original family mementoes – often exchanged as birthday and Christmas gifts. The rooms include Prince Albert's private suite, kept as it was after his early death in 1861 and the Queen's own bedroom, where she eventually died in January 1901.
There are extensive grounds to enjoy with sweeping views from flower-filled terraces down to the sea, where Queen Victoria's original bathing machine still stands on her private beach – tour members can relax here in a deck chair or take a paddle. On the way, there's the Swiss Cottage to explore, where the royal children learnt how to keep house and established a small museum housing their collection of curiosities.
While touring the island, also visit Carisbrooke Castle, which for 14 months, was prison to King Charles I before he was taken to London and executed in 1649.
Tour members can see the room he tried unsuccessfully to escape from – he got stuck in the window. Other castle highlights include watching the castle donkeys turn the 16th-century wheel to draw water from the well, panoramic island vistas from the Norman keep and the Princess Beatrice garden, named after Queen Victoria's youngest daughter who lived at the castle.
Our pick of other once-royal English Heritage properties is:
Dover Castle, Kent -  built in the 1180s by King Henry II, possibly to demonstrate his wealth and power to pilgrims passing heading to Canterbury. Later, Anne of Cleves stayed in 1539 on her way to marry Henry VIII and Queen Elizabeth I visited in 1573. Henry's castle still dominates the White Cliffs and his Great Tower, with its colourful interiors, is just as impressive today. During World War II, the network of tunnels hidden in the cliffs below, were the top-secret operational nerve centre for the evacuation of British and Allied troops from the beaches of Dunkirk. The tunnels – including an underground hospital, complete with operating theatre – are a must-see for tour groups;
Eltham Palace and Gardens in Greenwich – childhood home of King Henry VIII.

The medieval Great Hall was incorporated into a state-of-the-art 1930's Art Deco mansion. The blend between medieval architecture and 1930's glamour is fascinating and in the extensive gardens, the original water-filled moat and ruined walls of the royal palace still remain.

Audley End House and Gardens, Essex – bought by King Charles II in 1667 to indulge his passion for horse racing, due to its proximity to Newmarket. Its role as a royal palace was short-lived as the king disposed of it in around 1670. Tour groups can enjoy the magnificent interiors of the Jacobean mansion and discover how the house and estate were run during Victorian times both upstairs and downstairs. Outside, they can stroll through the extensive landscape re-modelled by Capability-Brown, visit the stables and explore the walled kitchen garden.
You can discover more by visiting www.english-heritage.org.uk/visit/group-visits/