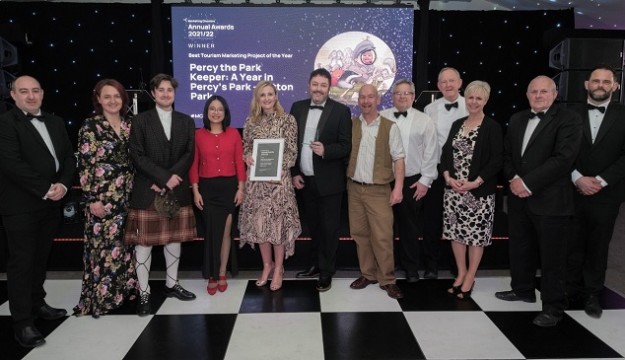 Tatton Park has won an award for Best Tourism Marketing Project of the Year for it's successful 'Percy the Park Keeper, A Year in Percy's Park' event which ran throughout 2021 and into 2022.
The winners of the annual Marketing Cheshire Tourism Awards were announced (March 24) at a glamourous awards ceremony at Nunsmere Hall. The event which took place during English Tourism Week was hosted by composer, musical director and performer, Matt Baker.
The Awards, attended by over 300 tourism representatives, celebrate excellence and outstanding achievement by businesses and individuals that contribute to Cheshire's visitor economy.
Tatton Park also received Highly Commended in the Resilience and Innovation award for their "Gallery in the Gardens" during 2020. Where visitors were welcomed during periods of covid restrictions to safely experience an outdoor art gallery throughout the seasons, in partnership with local artist Nicky Thompson and the Mid Cheshire Railway Line.
Caroline Jackson Tatton Park Marketing Manager, said
"Winning this award is the perfect ending to "A year in Percy's Park'. We've welcomed thousands of families and children from across the region over the year, to engage with Nick Butterworth's well-loved tales featuring Percy and his animal friends. We knew the family trails across the estate would be a perfect fit for Tatton Park and our visitors and we received great feedback. It was brilliant to be able to encourage families and friends to meet up, venture outdoors once again, to appreciate nature and play in our special places."