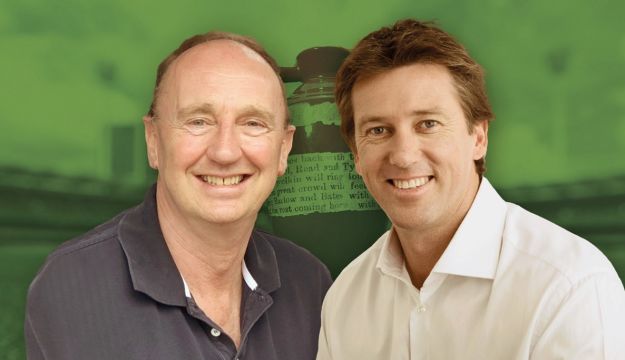 Live show heads to Aylesbury Waterside Theatre on 11 April 2023.
Following their sell-out debut tour, the Test Match Special team are hitting the road arriving at Aylesbury Waterside Theatre on Tue 11 Apr with an all-new, live show that celebrates cricket's fiercest rivalry. This summer sees the 73rd Ashes series as England face old foe Australia in one of the most eagerly anticipated clashes in years.
Ahead of the series Test Match Special Live 2023 will visit 17 venues promising an unmissable night with 'Voice of Cricket' Jonathan 'Aggers' Agnew, who will be joined by Australian bowling legend Glenn McGrath and a host of special guests as the team deliver Ashes anecdotes, great memories of classic series past, and their predictions ahead of the First Test.
Since its inception in 1957, TMS has followed thousands of matches through iconic voices that include John Arlott, Brian Johnston, Aggers and Sir Geoffrey Boycott. Each combining wisdom with no little wit for their loyal fans.
TMS's debut live theatre tour in early 2022 was a huge success, selling out venue across the country and delighting the BBC Radio show's legions of fans.
As well as reliving the finest moments from Ashes history, and facing audience questions, Test Match Special Live 2023 will see Aggers, McGrath, and special guests provide candid and forthright opinions on the issues facing cricket today.
Guests on the previous tour included the likes of Stuart Broad, Chris Woakes, Steven Finn, Ebony Rainford-Brent, and TMS super-fan Stephen Fry.
A veteran of 16 Ashes series behind the microphone, Aggers has witnessed some of the most remarkable games the sport has ever seen. The Test Match Special Liveaudiences will be treated to the inside story of England's wins in 2005 and 2010/11 and be taken into the commentary box for THAT game and THAT innings by Ben Stokes at Headingley in 2019.
Aggers said: "We had such a fantastic time on our debut tour that the TMS team has decided to do it all again – and this time with an Ashes twist!
"I am delighted to be taking to the road with a true cricketing great. Glenn and I are really looking forward to reliving those legendary series of the past as well as looking ahead to what should be another intriguing series. The shows will be the perfect appetiser ahead of a fascinating Ashes summer."
By the time Glenn McGrath retired after the 2006/07 Ashes series, his reputation as one of the greatest seam bowlers of all time was assured. In all, he took 563 wickets and spent much of the 1990s and 2000s tormenting England's batsmen. Now a no-holds-barred broadcaster, Glenn's insightful views are as spot-on as any of his fiendish deliveries!
Glenn said: "The Ashes is an incredible sporting institution and one which I had the honour to play in many times over the course of my career. I am really looking forward to touring the UK with Aggers to talk all things Ashes, share some of my experiences and look ahead to the summer's Test action."
Book your tickets now, visit atgtickets.com/aylesbury