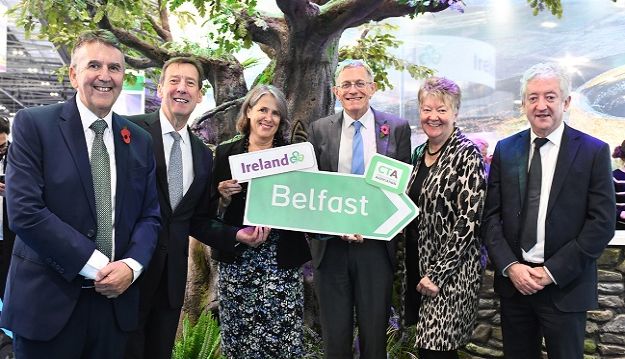 Niall Gibbons, Tourism Ireland's Chief Executive, has spoken in support of coach tourism as the Coach Tourism Association (CTA) prepares to host its 2023 Conference & Workshop in Belfast on Sunday 5 and Monday 6 February.
The event is sponsored by Tourism Ireland and the head of the organisation has reiterated the importance of coaches to Ireland's tourism economy. "Tourism Ireland is delighted that the Coach Tourism Association has chosen Belfast as the venue for its 2023 conference. We'll be extending a very warm welcome to all delegates in February," says Niall Gibbons, Chief Executive, Tourism Ireland. "Belfast is a vibrant city – alive with culture, music, world-class attractions and a fantastic food and drink scene. We are excited that Titanic Belfast is undertaking a multi-million-pound refreshment this spring, which will see the experience transformed. Other world-class attractions, such as Game of Thrones Studio Tour, just 25 miles south of Belfast, continue to be a big draw for our visitors. We look forward to showcasing these, and many more of our wonderful experiences, to our Coach Tourism Association guests.
"Coach tourism continues to be extremely valuable for the island of Ireland, bringing visitors to our regions, right throughout the year. We plan to use the conference to showcase our superb tourism offering, helping our coach tour operator partners to develop new and exciting programmes for their clients." High-profile tourism journalist Simon Calder once again heads the Conference session, which will also feature additional guest speakers from the industry.
The event, accommodated by Belfast's Europa Hotel, also includes fam trips to Hillsborough Castle and Titanic Belfast, as well as pre-event fam trips to the Giant's Causeway, Derry-Londonderry, and Belfast. An important feature for business networking also includes the CTA Meet the Buyer Workshop, where buyers and suppliers will meet to create new product, all under one roof. Last year, over 800 one-to-one meetings took place.
"It's exciting to be heading to Northern Ireland for the first time for our Conference & Workshop as it has such a wealth of opportunities for coach groups," says CTA's Chair, Robert Shaw. "The valued support and sponsorship from Tourism Ireland also shows the commitment the organisation has in encouraging operators. As Niall Gibbons says, coach tourism continues to be important to across the island of Ireland, as operators will see at the 2023 Conference & Workshop," adds Robert.
Places at the 2023 Conference & Workshop are still available. To book your attendance, visit http://coachtourismassociation.co.uk/book-now/
Non-member coach tour operators, wholesalers, and suppliers who would like to attend the 2023 Conference & Workshop can join the CTA at https://coachtourismassociation.co.uk/join-the-cta/