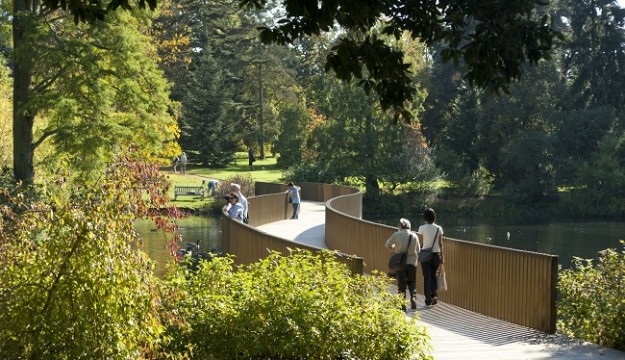 Set in 326 acres of beautiful grounds containing the largest living plant collection in the world, Kew Gardens is a UNESCO World Heritage Site less than 30 minutes from central London.
The Gardens' famous glasshouses provide hours of fascinating discovery whether it's a tropical rainforest in the iconic Palm House; a journey through ten climatic zones in the Princess of Wales Conservatory or giant lily pads in the Waterlily House.  A visit to the Temperate House is a must. The jewel in Kew's crown, it is the world's largest surviving Victorian glasshouse which reopened in May 2018 after a huge five-year restoration. Over 10,000 plants from the world's temperate regions are housed in this veritable cathedral of glass.
Kew Palace (open Easter to Autumn), the former summer residence of George III, is Britain's most intimate royal palace. In contrast, The Hive is a contemporary architectural installation which came to Kew in 2016. This extraordinarily beautiful and immersive 17-metre high structure examines the importance and plight of the world's bees.
The Great Pagoda, first built in 1762 during the height of the eighteenth-century craze for Chinoiserie, is another spectacular landmark at Kew which is visible for miles around. The ten-storey folly stands at almost 50m high and was recently restored to its original splendour, its roofs adorned with 80 colourful and gold-gilded dragons.
The public often don't realise that Kew is a global leader in plant and fungal scientific research with over 200 scientists and work spanning 110 countries. Kew's scientists are unearthing the fundamental impact of plants on our daily lives, from carrying out exciting plant discovery expeditions in Mozambique, to vital conservation work in biodiversity hotspot Madagascar. In the Temperate House, look out for the interpretation boards which give fascinating insights from Kew's incredible scientists on some of the plants housed there.
Group rates for parties of 15 or more people are available and all group bookings must be reserved in advance.  For more information and bookings, please email groups@kew.org or call 020 8332 5648.