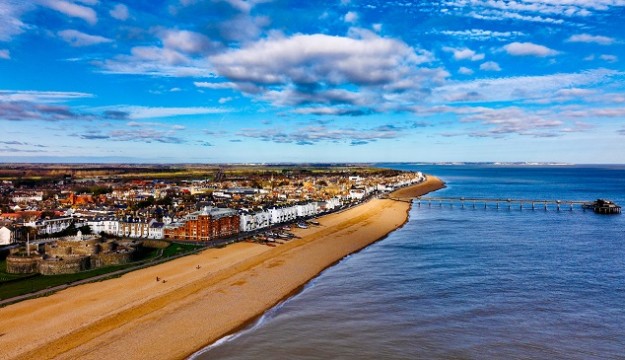 With 2023 being Year of the Coast, it's the perfect time to head coastward to discover White Cliffs Country's unforgettable landscapes, rich history and fantastic hospitality. We're easy to drive to from London, but we're a world away. 
One of England's best-kept secrets, the historic port town of Dover is home to magnificent Dover Castle, which has stood sentinel over the town for more than 2000 years. Dover Museum houses the world's oldest known sea-going vessel, the Bronze-Age Boat, and nearby 13th-century Maison Dieu was once a place of rest for pilgrims. Stroll through the town and along the Edwardian seafront; visit the Market Square, a popular spot to listen to live music in summer or join the annual Dover Winter Light-Up lantern parade in December.
For walkers, the route from the National Trust visitor centre along the clifftops to The South Foreland Lighthouse, where Marconi sent the first international wireless transmission, is a must. On a clear day, you can see French coast.
The lovely seaside market town of Deal has an award-winning high street and unspoiled seafront with its popular pier. Deal Castle is one of the finest Tudor artillery castles in England and beautiful Walmer Castle and Gardens was once home to the Duke of Wellington.
Book an entertaining historic walking tour of the town to discover Deal's incredible history or enjoy a fun round of golf at Roman Landings Adventure Golf course on Walmer seafront. Deal Music & Arts Festival in July is a highlight of the area's events calendar. Betteshanger Park is home to the fascinating Kent Mining Museum and there are acres of woodland to explore on foot or by bicycle, and group activities such as archery, outdoor adventure course Boonies and exhilarating off-road driving in Swincars.
Once a bustling and prosperous port, Sandwich is one of Britain's best-preserved medieval towns. Visit the Guildhall Museum to see the town's Magna Carta and Charter of the Forest, and beautifully preserved courthouse. Wander through the ancient streets where there are photo opportunities on every corner and join in one of the many fabulous free summer events, including Le Weekend and Sandwich Folk & Ale Festival in June.
Other outstanding visitor attractions include Wingham Wildlife Park, the Battle of Britain Memorial, state-of-the-art Whitemills Wake & Aqua Park and Lydden Hill Race Circuit, the birthplace of Rallycross.
White Cliffs Country is also home to three championship links golf courses, award-winning nature reserves and gardens and thrilling sea safaris. Whatever you choose to do here, we're sure you'll want to stay longer.
Our highly knowledgeable Visitor Information Centre team is ready to help plan itineraries and provide information. Call them on 01304 201066 or email vic@dover.gov.uk or visit www.whitecliffscountry.org.uk