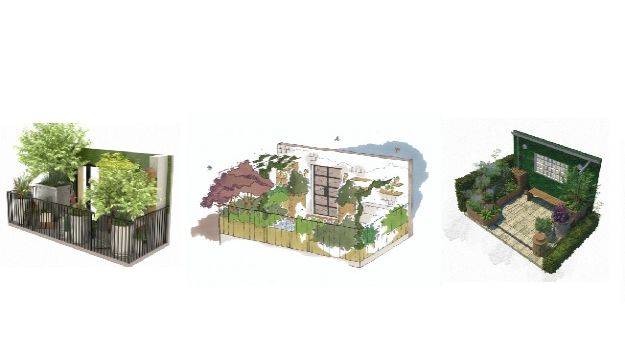 Bringing the beauty of gardens to unused spaces on train platforms and the cosy feel of a pub to an inner city balcony are among some of the big ideas planted into the smallest of spaces at this year's RHS Chelsea Flower Show.
The Balcony and Container Gardens category has returned for its third year at RHS Chelsea and for the first time, all of the design teams in this section are headed up by women.
A category aiming to assist emerging designers to get a foot in the door at the world's most prestigious flower show, backgrounds of entrants include serving with the police and public interest law. All ten have been mentored by multi-award winning RHS Chelsea designer Paul Hervey-Brookes.
They have incorporated some of the biggest issues facing the nation into their designs, with a wealth of ideas for how people with limited space and resources can incorporate drought-tolerant planting and easy-to-grow edible plants.
Design duo Amelia Bouquet and Emilie Bausager make their RHS Chelsea debut with The Platform Garden.  Inspired by unused overground platform spaces in London, the garden, which features concrete bins as planters and novel ways to harvest rainwater, will eventually be re-homed at a nearby station.
Emma Tipping, who began her career working in an office in central London, has designed The St George 'Alight Here' Balcony Garden which provides a relaxing, playful space with the character and comfort of a good local pub for young professionals to escape the pressures of modern life.
Julie Haylock, a former staffer at Avon and Somerset Constabulary, has designed a garden inspired by the pioneering palaeontologist Mary Anning offering viewers the walk through time experienced along the Jurassic-coast, while Gini Denison-Pender, a lawyer specialising in children's cases who has ventured into garden design, has teamed up with Philippa Craddock and Anna Garner to twin the magic of rainforests and the exciting world of children's books in their balcony garden, The Doorstep Library Garden: Words Take You Places.
Camilla Windsor-Clive has paired with Joanne Edmonds to design a Container Garden acting as a sensory healing space for visually impaired people — a demographic close to Camilla's heart as her two sons suffer from Stargardt disease.
The gardens will go before the RHS judging panel on 21 May before the RHS Chelsea Flower Show 2023, sponsored by The Newt in Somerset, opens to the public from 23 to 27 May.
Hervey-Brookes said: "The Balcony and Container Gardens this year do not shy away from the big issues of the day and they demonstrate that even the smallest space can have a big impact. From grow-your-own to climate resilience, they are packed full of ideas for visitors to try at home to help make their own spaces more productive, resilient, and restorative."
Helena Pettit, RHS Director of Gardens and Shows, said: "There is much work to be done around increasing diversity in horticulture but it is an encouraging step forward to have a garden category at RHS Chelsea filled with so many women. We hope seeing these women create beautiful gardens at the world's most famous flower show will inspire the next generation of female designers to pursue a career in horticulture.  A celebration of 'Women in Horticulture' will also be at the heart of the Great Pavilion this year."
Tickets to RHS Chelsea Flower Show are currently available, including RHS Chelsea Late: www.rhs.org.uk/chelsea