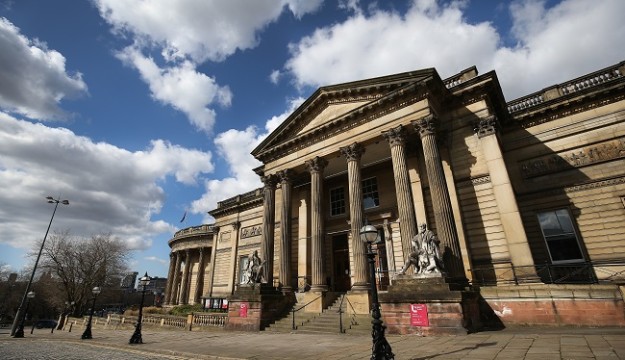 Last chance to catch the popular exhibition before it closes on 10 January 2021 
An extensive review of Linda's work, it features images never shown before of the family in Liverpool and Wirral, including some wonderfully festive shots taken over Christmas 
The Walker Art Gallery, like all National Museums Liverpool venues, opens once more with strict Covid safety measures in place 
Book tickets at: www.liverpoolmuseums.org.uk/lindamccartney 
Linda McCartney Retrospective reopened at the Walker Art Gallery on 2 December just in time for people looking for a special Christmas day out. The exhibition, which features more than 250 images, includes intimate family moments, caught in Linda's inimitable style, of Christmas time spent in Liverpool and Wirral.  
From the beautiful classical composition of an impromptu carol singing group with Paul at the centre, bathed in dramatic lighting thanks to a nearby street–light, to an unguarded shot of the couple in a pub mirror surrounded by Christmas decorations, Linda's spontaneous style captures the joy of the season. The section also includes scenes familiar to many of us at this time of year, from the broadcast of The Queen's Speech on a 1960s television set to a family member bursting into song as though on a cabaret stage rather than in a typical suburban front room.  
Thousands of people have enjoyed the exhibition since it opened in August 2020 and its reopening in time for the Christmas season is the last chance for people to say goodbye to a much-loved collection of photographs.  
Sandra Penketh, Executive Director for Galleries and Collections Care at National Museums Liverpool, said: "It was very disappointing to close the Walker Art Gallery once again during November, particularly when we know what an important role art and culture plays in people's well-being. So, we are absolutely delighted that the efforts of so many people to reduce the virus in the city have enabled us to open the gallery and this wonderful exhibition safely once again. We know families love to visit the gallery during the festive period and the images of Linda's own family at home – in Liverpool – for Christmas will be particularly enduring."  
An exclusive range of prints, t-shirts, tote bags and more featuring highlights from the exhibition are available in our shop and online. 
Linda McCartney Retrospective 
Images of the most iconic artists and moments from the 1960s music scene, alongside intimate family moments and arresting pictures of the natural world, give visitors remarkable insight into Linda's world and the way she approached her photography. In addition, a section featuring works never shown before of the family in Liverpool and Wirral has a special resonance with the gallery's local audience. 
The exhibition also includes contact sheets, ephemera, and archive materials, including some of Linda's journals from the 1960s and several of her cameras. An array of Linda's exquisite Polaroids and sun prints are beautiful examples of her creativity and interest in early photographic processes. 
Artist information 
Born Linda Eastman in New York in 1941, Linda's interest in photography developed after she accompanied a friend to a photography class while studying at the University of Arizona. Seeing photographs such as Dorothea Lange's powerful images of 1930s' American migrant families, she was inspired to photograph the world around her as she saw it. 
By the mid-1960s, Linda was a successful professional photographer known for her portraits of musicians such as The Rolling Stones, Jimi Hendrix, Aretha Franklin and The Beatles. In 1968, she became the first female photographer to have a cover photograph on Rolling Stone magazine, with her portrait of Eric Clapton.  
Linda was a single mother to her daughter Heather when she married Paul McCartney in 1969. Paul adopted Heather, and the couple had three children together: Mary, Stella and James. Following her marriage, Linda's work became more intimate and emotive, centring on the daily lives of her family, as well as her love of animals and the natural world.   
Linda McCartney had a parallel career as a musician, working alongside Paul on the album RAM and as a member of the band Wings. She was an animal rights activist and a passionate advocate of a vegetarian lifestyle, often using her images to support the campaigns that she believed in.  
Tickets for Linda McCartney Retrospective are available to purchase online at £9 for adults and £8 for concessions. Members of National Museums Liverpool receive free entry to the exhibition.  
To purchase tickets, or to become a member, visit: liverpoolmuseums.org.uk/lindamccartney